Full Service Septic Company
For over 21 years we've been providing diverse septic services to our local communities. We have the necessary septic solutions to fit your needs.
Gosse Septic Service is a family run and owned business located in Barnstead, NH.  We're committed to servicing your septic needs.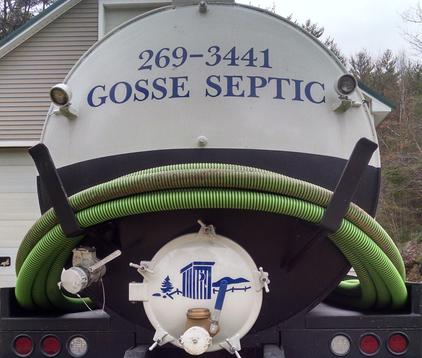 Here at Gosse Septic we provide high-quality septic services that are designed to keep your systems up and running at all times, fixed quickly when an issue occurs, and maintained for optimal efficiency. We provide septic pumping services, septic inspections, and emergency services if required. Contact us today to discuss your septic needs.
At Gosse Septic we have different levels of portable toilets depending on who will be using the portable (handicap accessible), what the portable will be used for, and what the venue is. We offer diverse rental terms ranging from daily to monthly for private, light public/commercial, and light construction. Request a portable toilet quote today.
As a full-service septic company there are may services provided at Gosse Septic outside of simply septic pumping. We service septic systems, provide different levels of filters, do line clearing and installing through dirt work, and other various services. If you have a septic related need let us know and we're open to discussing if we can help put together a solution for you.
The septic system for your home or building is a large investment, and it is important to make sure that you're doing everything that you can to properly care for your investment. Effectively maintaining your system will ensure it is running properly and producing at its highest possible leave. If you have questions regarding your systems health, please give us a call or get in touch.
Get in touch to request a quote or appointment to discuss any and all of your septic needs. We have services that range from standard septic system pumping and maintenance, to an inventory of portable toilets for an upcoming occasion.